Good
Extremely thin bezel
Menus are excellent
Remote is very good
Wide variety of supported inputs
Sound is very good
Bad
Quite expensive (€1300 including 23% vat)
Light bleeding at edges
I usually waste too much time in deciding on big tech purchases so with that in mind, I bought this TV on impulse on 27-12-2011. It cost €1300 after €150 cash back, which I received in the form of a credit card.
This is essentially a 46" Linux media player, with wireless net connectivity, so it'll be an interesting attack vector in future. The encryption of the firmware won't help, as it's already broken of course.
I was very impressed with the user interface. The menuing system is visually pleasing, responsive, and easy to use.
[Update Oct 2020: This TV was given a new lease of life with the just released google chromecast with TV device.]
Setup
Not much to be said here really as everything just worked. Initial setup was very easy, and the TV connected perfectly to my wireless WPA network, and auto updated to the latest firmware.
I didn't spend too much time tweaking the many sound and colour calibration settings, but two changes that made a large improvement were, changing the picture mode to "Movie", which resulted in much more realistic colours, and to enable SRS surround sound, which made a huge improvement to sound quality.
Another default worth changing is the daft bright distracting Samsung logo at the bottom of the screen. Who thought that was a good idea? That can be disabled in the menus thankfully.
flatpanelshd.com
and
hdtvtest.co.uk
have good reviews with detailed calibration settings etc. if you want to waste time tweaking things further.
General features
This is a LED TV or more accurately an Edge lit LED display, which allows for an extremely thin display by diffusing the back light across the screen by a special panel. If you hover over the image above you can see how thin it is, and would be very nice to mount against a wall for example.

Another thin feature of this display which I especially like is the very thin bezel around the edge. Now there is consequently some back-light bleeding at edge, but it's acceptable.

The system supports a myriad of inputs, which was a big factor in my buying decision, as I then wouldn't need any separate MPEG4 DVB-T or DVB-S decoders. It also supports external USB storage for playing and recording from/to.

3D is also supported with 2 pairs of bluetooth glasses provided, however I rarely use that as there in not much content yet.

Also provided was the AA59-00543A remote on the left, which is very easy to use, and I think looks good too. Note the darker area in the center of the remote, is a touchpad, useful to move a mouse cursor when using the integrated browser mentioned below.
Smart features
The TV really benefits from the inbuilt wireless connection, which can be utilised by various "smart" apps. Now most require a good internet connection, and my 7Mb/s DSL is at the lower limit of what's usable for streaming, though it seems to be not enough for 1080p content.
When you hit the "smart hub" button on the remote, you're presented with an array of apps which you can organize and add to. Currently the range of apps available is quite limited and I mostly use the netflix app which coincidentally became available in Ireland in Jan 2012. This is a good service and well worth the €7/month.
There is also a browser (based on webkit) which is quite good and plays flash content for example. However some youtube clips can cause the TV to reboot, like this one (or maybe that's a feature :)). It probably hangs something, thus triggering the watchdog.
Many of these apps need textual input, like when entering search terms in the netflix app for example, and entering with number combinations on the standard remote is really painful and not practical at all. Fortunately most people will have some sort of a smart phone or tablet, on which they can install the free Samsung remote app, as shown below. While a bit unstable the presented qwerty keyboard is so much better, and makes the apps much easier to use.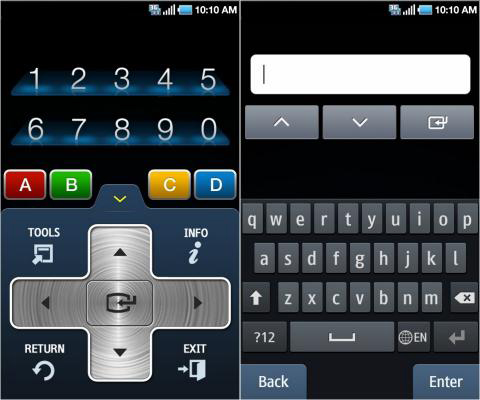 External storage
One of the most useful features of this TV is how well it deals with external storage, by just popping a USB stick into one of the 3 USB ports on the back. A very nice browser pops up to display pictures and play music or videos. One could directly connect a camera for example which often present themselves as a USB device. Another example is where I threw a 1280x688,1.2G matroska,webm,H264 movie on a USB key, and it played very well, albeit with a few instances of judder. It's ironic to note that even though the TV runs Linux, it doesn't support the standard ext[234] Linux file systems.
If you dedicate a USB device you also you get PVR functionality. The (unpartitioned) device will be formatted with an XFS file system, and speed tested. I bought a 32GB Transcend JetFlash 700 device for this, which is more than fast enough to saturate the USB 2.0 limit, and when on USB 3.0 can read/write 70/50 MB/s.
Linux internals
Like most TVs these days, this is no exception in that it runs Linux. I'm losing count of Linux systems in my house now :) Note currently, Samsung seem to be shipping 20m android phones and 4m smart TVs per quarter. That's about 185 Linux kernels per minute!
The system uses an ARM CPU and has 1GB flash storage for apps (180MB was used for my standard install), and 128MB for the operating system.
Open Source components
If you hit menu ‣ support ‣ contact ‣ Samsung ‣ "red", you get the following list of open source projects, which hints at the structure of the system:
| | |
| --- | --- |
| GPL: | kernel, busybox, binutils, xfsprogs, iptables, wireless_tools, rtutil3572ap, rtnet3672ap, rtutil3572ss, rtnet3672ss, bcm_usbshim, Gloox |
| LGPL: | glibc, libgphoto2, libusb, libiconv, libThai, ffmpeg, libmns, SDL, smpeg, libidn, Webkit (531.2+), gcrypt, GNUTLS, libgpg_error, libsoup, LIBTASN1, xml2json, Getopt, Glib, Pango, ATK, Cairo, GTK |
To get more info you can download the source from
opensource.samsung.com
, and upon extracting the source for my T-GAP8DEUC-1021.2,BT-G firmware, you can see:

$ tar --exclude='*/*' -tzvf 11_UE_UAxxD7xx0.tar.gz
drwxr-xr-x        0 2010-12-02 02:12 bcm_usbshim/
drwxr-xr-x        0 2010-04-16 12:50 binutils-2010q1/
drwxr-xr-x        0 2011-01-18 04:18 busybox-1.14.3-vdlinux/
drwxr-xr-x        0 2010-12-02 01:41 DPA_S_RT3572_LinuxSTA_V2.4.0.4/
drwxr-xr-x        0 2011-05-30 04:55 glibc-2.11-2010q1/
drwxrwxrwx        0 2009-10-31 18:28 gloox-0.9.9.12/
-rw-r--r--     9095 2011-06-21 06:26 HOW_TO_BUILD.txt
-rw-r--r--     9527 2011-05-30 07:42 HOW_TO_INSTALL.txt
drwxr-xr-x        0 2010-05-21 11:51 iptables-1.4.8/
drwxr-xr-x        0 2011-05-18 05:50 LGPL_glib/
drwxrwxrwx        0 2011-09-29 09:44 LGPL_LIBGPHOTO2/
drwxrwxrwx        0 2011-05-17 04:24 LGPL_LIBUSB/
drwxr-xr-x        0 2011-05-18 05:50 LGPL_mms/
drwxr-xr-x        0 2003-05-22 21:20 libiconv-1.9.1/
drwxr-xr-x        0 2010-05-27 01:21 libthai-0.1.6/
drwxr-xr-x        0 2011-05-27 15:27 linux-2.6.30.9/
-r--r--r--  4472832 2011-05-17 16:23 rootfs.img
drwxr-xr-x        0 2010-12-02 02:29 RT3572_LinuxAP_V2.5.0.3/
drwxr-xr-x        0 2011-05-30 03:04 SDL-1.2.11/
drwxr-xr-x        0 2011-05-31 01:55 SDL_image-1.2.6/
drwxr-xr-x        0 2011-05-31 02:05 SDL_mixer-1.2.11/
drwxr-xr-x        0 2011-05-31 02:15 SDL_net-1.2.7/
drwxr-xr-x        0 2011-05-31 02:33 SDL_ttf-2.0.8/
drwxr-xr-x        0 2011-03-31 02:07 SVN-r19089/
drwxr-xr-x        0 2011-05-30 02:33 wireless_tools.29/
drwxr-xr-x        0 2011-03-09 04:52 xfsprogs-3.0.5/

Note the included rootfs image, which you can loopback mount to further inspect the partition structure and startup scripts etc.
Now you can't update the large central monolithic closed source app, but you can "root" the existing binary image and modify or install other applications as described at swiftarm